Welcome to the San Mateo County Farm Bureau
Protecting, promoting, and preserving agriculture in San Mateo County as a business and a way of life.
We are a non-profit organization dedicated to promoting and preserving farming in San Mateo County. We believe that farming brings economic and environmental benefits to all residents of the county.
There's a lot of information here. If you don't find what you're looking for, give us a call or send an e-mail. We'll be happy to help you!
Upcoming Events
Monday, June 10, 2024
Half Moon Bay Golf Links
2 Miramontes Point Rd, Half Moon Bay
11:30am – Check-In
1:00pm – Shotgun Start
6:00pm – Cocktails/Dinner at Portuguese Cultural Center
Click here to Sponsor and/or Play
Veteran's Day Dinner
TBD 2024
Long Branch Saloon & Farms
321 Verde Rd., Half Moon Bay
5:30 PM – 8:30 PM
Click here to Sponsor and/or Attend
Past Events
Monday, June 21, 2021
Half Moon Bay Golf Links
2 Miramontes Point Rd, Half Moon Bay
11:30am – Check-In
1:00pm – Shotgun Start
6:00pm – Cocktails/Dinner at Portuguese Cultural Center
Click here to Sponsor and/or Play
Supporting Agriculture
Learn more about our scholarships, interactive farm map, and recipes using local ingredients.
Farm Bureau Programs
As Fresh As It Gets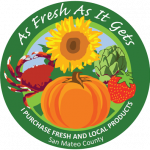 Farm Bureau Buzz
 Santa Clara County Farm Bureau